THE ORGAN GRINDER'S GAZETTE
(a.k.a. The G. Grosz Garden Nitrate, Tarred Eggs Entering Azoth, The Grazed Noggins Retreat, etc.)*
~ News From The Recordists ~
(2005 Message Archive)
Update, Dec. 12, 2005 - new website
I've completely revamped my "noisician" website - new look, lots of new photos (spanning more than 20 years!), etc. Check it out here.
- William A. Davison
---
---
Update, Dec. 5, 2005 - B-Day!
Happy Birthday Recordism! Twenty-one years old today!
- William A. Davison
---
---
Update, Nov. 27, 2005 - Séance In A Bathtub book launch
I am very pleased to announce the launch of my first book of poetry Séance In A Bathtub published by Luciano Iacobelli's Lyricalmyrical Press. Details follow: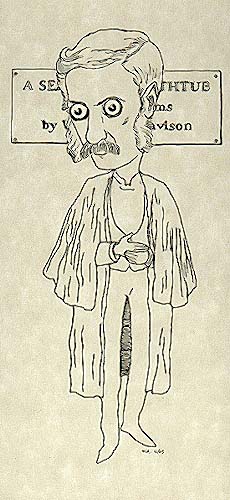 Lyricalmyrical Press
Book Launch Dec 1, 2005
Cervejaria, 842 College St. (one half block west of Ossington), Toronto
7 - 9pm (starts at 7pm sharp!!)
4 Books
Jim Christy
In the Wee Small hours
William Davison
Séance in a Bathtub
Luciano Iacobelli & Jens Kohler
But Sir!
Corrado Paina
Piero's Dust
Special Guest
Louis Calabro
~~~~~
I will be reading selections from the book and maybe some other stuff too. Hope to see you there!
- William A. Davison
---
---
Update, Nov. 22, 2005 - Manta-Format Ski Meat
Six Heads member Colin Hinz and some other friends will be performing in this new GFR-organized monthly series. Here's the info from Andrew:
~~~~~
MANTA-FORMAT SKI MEAT WEDNESDAY presents:
Wednesday November 23rd
Colin Hinz, 13 Moons, Doug Tielli and Over-Eaters Anonymus.
@ the Bagel, 285 College St., Toronto. 9pm. PWYC.
COLIN HINZ is one of the Six Heads and a long-term fixture in the Toronto obscuro scene - but only recently has ventured into the realms of solo performance. He is well-known for patronizing otherwise silent electronics into bustling "pachuuuk" submission and building Mechano soundmakers that you swear you heard sneeze...
13 MOONS is the ongoing psych/poop-noise project of John Shapiro, table-top guitarist for Disguises and the best employee to reccomend incestual psychedelic cinema at queen video (some of you may have gotten the Fassbinder reference already, but hey).. If John was making movies and not inundating aural prodding, it would be something akin to Abel Ferrera adapting a Georges Bataille novel about vaginal eyeball insertion. nice.
You may have seen DOUG TIELLI crooning soulfully in his 1000000 other bands, such as the Silt, the Reveries and the Draperies - now, thanks to Doug's will to wander alone, we are treated to a showcase of his many moods. To name a few: the teapot/ dictaphone croonfest, the double folk crooning feeling accompaniment, and the harmonica/banjo motifs (with intermittent croons). Doug is one of my favorite Toronto crooners and a future tv crooner at that!
OVER EATERS ANONYMUS is a shame to every starving family. Their only instruments happen to be all four food groups and their rude mouth gesturing. You may recognize a couple of them from Gastric Female Reflex, smothered in a rich mushroom and rosemary gravy, served with a side salad with balsamic and cilantro dressing and garlic mashed potatos. Will most likely turn you off of eating for a bit...
~~~~~
- William A. Davison
---
---
Update, Nov. 14, 2005 - Sounds of North American Adult Bookstores
I'll be performing as part of Sounds of North American Adult Bookstores (along with Jacob Horwood and Andrew Zukerman) tomorrow night at Grafitti's in Kensington Market. Here are the details (extracted from Soundlist):
~~~~~
TUESDAY NOVEMBER 15th /// 9pm
the Sounds of North American Adult Bookstores
the Guayaveras
@ Grafitti's (170 Baldwin), Kensington Market, Toronto
PWYC
-sounds of north american adult bookstores is members of "gastric female
reflex" and "festering anus, members only" playing the nice-times music.
they adopt a pleasant demeanor and respect the volume constraints of small
venues. they play the zither, the autoharp, the piano, the percussions and
the tapes. think climax golden twins in full-on eastern make-out vibe...
-the guayaveras is the busking project of two rat-drifters: ryan driver and
eric cheneaux. rock solid improv temperature, constant pagan hall friends!
guitars i believe, maybe some synthesizer!?!
~~~~~
See you there!
- William A. Davison
---
---
Update, Oct. 30, 2005 - Canzine today!!
I'm an idiot! I've been so busy getting ready for Canzine, I almost completely forgot to send out an announcement about it! Yes, I'm going to be at Canzine today meeting and greeting and, hopefully, selling some Emunctory of Dreams Press publications (hot off the presses mini-comics!) and some Disembraining Songs product (CDs by Six Heads, S.O.T.N.E., etc.).
Hotel Canzine
Sunday, October 30, 2005
The Gladstone Hotel
1214 Queen St. West (Queen just East of Dufferin), Toronto
1pm - 7pm
In addition to a bazillion vendors, there's lots of entertainment and special events too! More info here
- William A. Davison
---
---
Update, Oct. 26, 2005 - death of Eva Svankmajerova
Bill Howe of the Leeds Surrealists forwarded this sad news to us:
~~~~~
Article is at:
http://radio.cz/en/article/71927
Radio Prague
21-10-2005
"Eva Svankmajerova: 1940 - 2005"
By Jan Velinger
The Czech Republic lost one of its finest artists this week, Eva Svankmajerova: writer, painter, and Surrealist artistic collaborator with her husband Jan on numerous mixed live-action/stop animation films including the award-winning "Little Otik" in 2000. Over forty-five years Eva and Jan Svankmajer became inseparable on the Czech arts scene. They collaborated on deeply visceral works that echoed the darkness of totalitarian life as well as life in general, hiding and subsequently revealing surfaces beneath surfaces: sexuality, corruption, hidden violence, and sporadic beauty.
In her own paintings she first made her mark in the 1960s. Art historian Jan Kriz:
"Eva Svankmajerova gained notable public attention in the mid-60s through a number of cycles that marked a return to the use of figure in painting - the 'New Figurative Painting' - a response to earlier abstraction. A number of artists took this route but Eva Svankmajerova in particular began relying on 'narrative' in her paintings to tell certain stories working in particular with symbols.
"In her case, the use of symbol and the connection to inner imagination and the subconscious were extremely personal. In one series, the 'Emancipation Cycle' she deconstructed famous paintings, famous nudes, by replacing the female subjects with men. That series made use of light irony and sarcasm and was one that really ensured her place on the Czech scene."
Also in the 60s Eva Svankmajerova began collaborating on her husband's films. Surrealism, says Jan Kriz, was a logical next step:
"Her work with visual metaphors later brought her into the Czech Surrealist school - she became an active part. Czech Surrealists like Mrs Svankmajerova - like others before them - were interested in a return to inner feeling, motivation, fantasy, the subconscious."
In her husband's films, Eva's vision melded together with Jan's, often reflecting dark visions of oppression but also black sarcasm in response to the totalitarian regime.
"The freedom of inner imagination provided methods of dealing with extreme social pressure. An example is the work of Surrealist poet Vratislav Effenberger. It reacted with intent to outside pressures, but of course with fairly complex metaphorical structures. 'Answers' are not obviously stated on the surface, but are felt on deeper levels."
Eva Svankmajerova completed one final project before her death, collaborating on one last film with her husband Jan. Titled "Lunacies" it will premiere in Prague next month --- an epitaph to Eva Svankmajerova's life and work. Eva Svankmajerova was 65.
Radio Prague, Vinohradska 12, 120 99 Prague 2, Czech Republic
tel: +420-2-2155 2900, fax: +420-2-2155 2903 © Copyright 1996-2005 Radio Prague, All Rights Reserved
E-mail: cr@radio.cz
~~~~~
- William A. Davison
---
---
Update, Oct. 13, 2005 - SOUNDplay Festival with tENTATIVELY a. cONVENIENCE and others
Some interesting stuff in this SOUNDplay Festival, including an appearance by an old friend of ours, tENTATIVELY a. cONVENIENCE. Details follow:
~~~~~
New Adventures in Sound Art & Pleasure Dome presents:
The 4th annual SOUNDplay festival
Various locations in Toronto
September 16 – October 16, 2005
www.soundplay.ca
Festival pass $25 / $20 students & Pleasure Dome members
Weekend pass (Oct 14-15) $20 / $15 students & Pleasure Dome members
A meeting point for experimentation in new media and sound art, encouraging new fusions of image, sound & text. SOUNDplay 2005 features: an e-book presentation by American tENTATIVELY, a cONVENIENCE (in person), a prolific experimental video artist and writer who is appearing in Toronto for the first time; FAMEFAME (Toronto) who have developed a loyal following in Toronto for their live video commentaries on popular culture; La Cellule d'Intervention METAMKINE (France) brings new meaning to the term expanded cinema with their dynamic live improvisations using 7 16mm projectors and analog retro audio technology; Videomusique screenings (Québec artists) will include beautiful visual abstractions integrated with cutting edge electronic music; AGM05 artists (Denmark, UK, Sweden) have addressed the theme of Silence through sound installations and screenings.
SOUNDPlay 2005 features screenings, installations, and performances co-presented with the Theatre Centre, the Camera bar, AMBiENT PiNG, Prefix, Pleasure Dome and AGM 2005.
Oct 12-13 only two nights left
Videomusique screenings
7 & 9pm $10/$8 students
free with festival pass
The Camera bar, 1028 Queen Street West, Toronto
Videomusique is a recent development in Québec where electroacoustic sound artists have expanded their palette to include abstract non-narrative digital video in their expression. This program gives a sampling of recent work in this provocative new genre. Screeings include "Sieves" by Jean Piché, "Treelogy" by Nicolas Bernier/Delphine Measroch, "Variations" by Inés Wickmann/Chantale Laplante, and "Die Dyer" by Alain Pelletier/Marcelle Deschênes
Oct 12 @ 7pm opening reception and performance
"Speaker, stain, silence" by Richard Crow
Sound installation
Continues Oct 12 to Oct 15 FREE
noon to 5 pm with performances by the artist from 1 to 2 pm everyday
Prefix Audio Art Gallery
401 Richmond Street West #124, Toronto
Visitors/listeners to Prefix will confront a profound silence (or disquiet), where silence as a physical situation can be addressed and made palpable.
Friday, October 14, doors open 8 pm @ Latvian House, 491 College St.
tENTATIVELY, a cONVENIENCE with special appearance by FAMEFAME
Tickets $15 / $10 students and Pleasure Dome members
Free with Festival or Weekend pass
This evening will include the sound installation "Silence" by Iben Bentzen, the video sculpture Kaleidoscope by Lyla Rye, the premiere of FAMEFAME's "Micro Omnibus" and "Story of a Fructiferous Society" An e-book/video from tENTATIVELY, a cONVENIENCE (In Person).
Saturday, October 15, doors open 8 pm @ Latvian House, 491 College St.
Features La Cellule d'Intervention METAMKINE
Tickets $15 / $10 students and Pleasure Dome members
Free with Festival or Weekend pass
This evening will include the sound installation "Silence" by Iben Bentzen, the video sculpture "Kaleidoscope" by Lyla Rye, screenings of works by Katarina Löfström and a performance by La Cellule d'Intervention METAMKINE.
Sunday, October 16 noon-4pm, Latvian House, 491 College St.
Workshop by La Cellule d'Intervention METAMKINE
$40 / $35 students & PD members (discount with pass)
Get a first hand glimpse of the inventive techniques employed by La Cellule d'Intervention METAMKINE in their performances. Learn about how they manipulate 16mm film stock, create film loops, and how they combine these with analog synthesizers, audio processing and tape machines to build a dynamic multi-sensory and multi-disciplinary improvisation practice.
New Adventures in Sound Art is a non-profit organization that produces performances and installations spanning the entire spectrum of electroacoustic and experimental sound art. Included in its Toronto productions are: Deep Wireless, Sound Travels, Sign Waves and SOUNDplay.
For more info contact Nadene Theriault-Copeland at 416-910-7231, or naisa@soundtravels.ca or go to www.soundplay.ca
~~~~~
- William A. Davison
---
---
Update, Oct. 7, 2005 - Mike Hansen benefit concert
Tomorrow night, Six Heads, GFR, and most of the rest of Toronto's noise and improvising community (by the looks of the poster!) will be performing at The Oasis to raise some bucks for our friend Mike Hansen. Mike has been generously donating the use of his loft space, New Works Studio, for performances and events over the past couple of years and, as the organizers of this event say, "never asks for anything but a clean floor in return." New Works Studio was broken into in Aug. and much of Mike's stuff, including computer, audio gear, etc. was made off with. Money from this show will go towards helping Mike replace some of his gear. Here are details and a jpeg version of the poster:
~~~~~
Mike Hansen Benefit Concert
at The Oasis, 294 College Street, Toronto
Oct. 8, 2005, 5pm - very late
$12
istvan kantor, knurl , gastric female reflex, flynns, six heads, akisakila, ryan driver, kameel farah, hoover party, ken aldcroft, colin fisher, dave clark, CJD, odradek, parkade, torres+worden+krakowiak, two bears, bonsai forestry, eric moot , dreamState and aaron lumley + brandon valdivia. +dj sets by kevin hainey, charles balls and jacob horwood.
~~~~~
More details at http://www.geocities.com/gastric_influence/mh.html
Hope to see you there!
- William A. Davison
---
---
Update, Oct. 6, 2005 - Londonsurrealists event + Putrescent Donkeys
Another couple of interesting items from the Londonsurrealists discussion group...
London Surrealist Group
public performance
Treadwells Bookshop
34 Tavistock St
Covent Garden
London WC2E 7PB
Friday 14th October 2005
7.15 for 7.30 start
£3.00 for room hire
Surrealism has always been far more than an art movement. Since 1924, Surrealists have embodied the poetic vision through radical politics, alchemy, magic, eroticism and play to create a genuinely revolutionary movement.
The London Surrealist Group was founded in January 2004. This will be the Group's first public performance, and will include poems, images, a reading of the Group's statement on the London bombings, and Surrealist games. Participants should include Toni del Renzio, a veteran of the Surrealist movement of the 1940's; along with Stuart Inman, Jill Fenton, Philip Kane, Merl, Darren Thomas, Alex Walker and Paul Cross.
http://www.nadobra.com/treadwells/events.asp?eventype=lecture
http://www.londonsurrealistgroup.org.uk
...and this came my way via the Londonsurrealists group but originates with the Portland Surrealist group...
"Ode To Another Putrescent Donkey"
- William A. Davison
---
---
Update, Oct. 5, 2005 - Dada exhibition
This just turned up on the Londonsurrealists discussion group:
~~~~~
http://news.yahoo.com/s/ap/20051003/ap_en_ot/art_dada&printer=1
Paris' Pompidou Defies Dadaism Prediction
By JOELLE DIDERICH, Associated Press Writer
Mon Oct 3, 1:38 PM ET
German-born artist Max Ernst once quipped that it was impossible to stage an exhibition on Dadaism, saying it was like trying to capture the violence of an explosion by presenting the shrapnel.
The early 20th-century avant-garde art movement was born out of the despair many artists felt over the deaths of millions of soldiers in World War I. As they rejected the society they considered responsible for the slaughter, these poets, painters and photographers lashed out at establishment values with absurdist slogans and provocative images.
In a bid to capture the explosive energy of the era, France's Pompidou Center has staged a sprawling dada retrospective which it billed as the largest in 40 years.
"Max Ernst said that a dada exhibition was impossible, so you are no doubt going to see a failure, but a slightly surprising failure," curator Laurent Le Bon joked Monday at the unveiling of the exhibition, which opens Wednesday and runs through Jan. 9, 2006.
It groups more than 1,000 works by 50 artists, ranging from luminaries like Jean Arp, Francis Picabia, Marcel Duchamp and Man Ray to lesser-known figures, including the many women who contributed to the movement.
Visitors amble through a maze of rooms set out in a checkerboard pattern, a recurring theme in dada paintings and collages.
Exhibits range from the porcelain urinal that Duchamp famously elevated to the rank of art — thereby laying the foundation of conceptual art — to Picabia's target paintings, which prefigure those of American pop artist Jasper Johns.
Fans of Man Ray's modernist photographic experiments will find a number of his so-called rayographs, stark black-and-white prints obtained by placing objects directly on photographic paper and exposing them to light.
"When you look at these dadaist works of art, there is an explosive quality to each of them which in the end is contrary to a surrealist or cubist work of art," Le Bon told The Associated Press in an interview. "I think that within dada there is the idea that there is no separation between art and life."
Each of the movement's artists was prolific across a wide variety of disciplines, so that Man Ray was also turning out sculptures while Ernst wrote poems alongside his main activity, painting.
"As a result, as there are roughly 100 artists," Le Bon said. "To show only one work per artist would have been a bit of a shame. We could have shown only masterpieces and that would have made 50 masterpieces, but that's not the spirit of dada."
Instead, the Pompidou is also showcasing hundreds of pamphlets, manuscripts and letters signed by the leading writers of the era — among them Andre Breton, Guillaume Apollinaire and Paul Eluard. The movement valued the written word as much as it did images.
The exhibition was put together with the help of the National Gallery in Washington, D.C., and New York's Museum of Modern Art, which will display a condensed version of the exhibition next year from Feb. 19-May 14 and June 18-Sept. 11, respectively.
~~~~~
- William A. Davison
---
---
Update, Aug. 31, 2005 - Nautical Almanac
GFR and some other fine folks will be appearing live with Nautical Almanac tomorrow night at The Bagel! Here's the skinny from Gastric Jake:
September 1st - The Bagel, 285 college st., toronto.
9pm, 10 dollars.
Nautical Almanac (Baltimore, Load Records)
Okan (ex-members of Swans, Glenn Branca symphonies, NYC)
mouthus
Gastric Female Reflex
Very Venuto
NAUTICAL ALMANAC are a group of pale-faced deviants withered and rendered ectoplasmic from nearly 10 years of rewiring household/ industrial electronics to their will. Their music: arbitrary bouquets of malfunction, hiss and crackle - open circuits seize up and succumb to uncrackable logic oscillations and wheaze for immenent death. For fans of VOICE CRACK, JESSICA RYLAN, LUC FERRARI and WOLF EYES.
MOUTHUS two piece drums and guitars from Nyc. have released an album on ecstatic peace. have collaborated with double leopards. total heavy fuck w/power metal free nz.
OKAN are a new band from New York. They tell me that they're "VOCAL ACID" and i believe them.
GFR now live within a block of the Bagel and plan on making dinner for these outstanding talents. Currently listening to Danny Ben-Israel and early electronic music.
VERY VENUTO is the pseudo-homosexual glam project of Peter Venuto. Glittery costumes, synthesizers and undeniable melodic stong-holds. Lives with a certain member of gfr no less than a block from the bagel. Expect at least six poses and four air-punches.
In case you're wondering, I am playing with GFR for this date. See you there!
- William A. Davison
---
---
Update, Aug. 29, 2005 - irr. interview
Another recent interview with irr.app.(ext.) has appeared, this time in the wonderful Foxy Digitalis webzine. Nice photo of S.Higgins (in Victorian garb) too! Check it out here.
- William A. Davison
---
---
Update, Aug. 12, 2005 - Pengo/GFR
I'll be playing with Gastric Female Reflex tomorrow night at The Art Bar, Gladstone Hotel, Toronto. Here's the word from Jacob Horwood:
hey kids!
come out to the gladstone art bar this coming saturday (august 13th), for serious post-fun, post-alligator clip/ pre-post post noise extravaganza -
PENGO (rochester, ny up in this piece)
GASTRIC FEMALE REFLEX
+ special guest
show at 9pm, seven dollars admission
"Pengo is a four-headed avant/drone/noise/psych hydra spawned in the toxic wasteland of Rochester New York (a.k.a.-the Flower city). Many disparate strains of underground sounds mesh to form the perplexing and at times alienating music that Pengo performs. They seem to have tapped into the long standing outsider/freak vibe that has been a constant in Rochester since the late 60's (See: Armand Schaubroeck, Lydia Lunch, Coffee and Nod.) They have been described as sounding like the following, Sun Ra, AMM, Art Ensemble of Chicago, Throbbing Gristle, Couch (U.S.), Suicide, NNCK, Les Rallize De Nudes and even Rema Rema on cough syrup. While Pengo is flattered by these comparisons they feel that they simply sound like Pengo. The one constant in Pengo is change, you will never see two Pengo shows that are the same."
Pengo info here
GFR info here
See ya there!
- William A. Davison
---
---
Update, Aug. 11, 2005 - Toronto noise
Read Kevin Hainey's article on the Toronto noise scene (including quite a bit on GFR and even a few mentions of yours truly!) in this week's Eye magazine. You can pick up a print copy just about anywhere in Toronto or you can read the article online at http://www.eye.net/eye/issue/issue_08.11.05/music/noise.html
- William A. Davison
---
---
Update, July 31, 2005 - Mimi Parent
Mimi Parent died last month. I found out about it a few days after it happened but was unable to post anything about it at the time. Here are a couple of obituaries:
http://www.guardian.co.uk/arts/news/obituary/0,12723,1521994,00.html
http://www.zoeticzone.com/p/articles/mi_qn4158/is_20050625/ai_n14699292
Very sad!
- William A. Davison
---
---
Update, July 13, 2005 - collective drawings
Several pages of collective drawings, including a number made during the recent visit by members of the O.A.C., have been uploaded to The Recordists website. Click here.
- William A. Davison
---
---
Update, July 8, 2005 - irr.app.(ext.) interview
Pointing you all in the direction of a great little interview with Matt Waldron of irr.app.(ext.). Read it!
http://www.musiquemachine.com/articles/articles_template.php?id=65
- William A. Davison
---
---
Update, June 30, 2005 - new product/website updates
Added two new releases to the Disembraining Songs catalogue - Songs of the New Erotics full-length CD-R "While The Architect Was Sleeping" and Wax double CD-R "Contusions On The Skin Of Sleep".
Updated Songs of the New Erotics discography and MP3 pages.
- William A. Davison
---
---
Update, June 29, 2005 - the great computer meltdown of '05!
If you haven't heard from me for awhile, it's because I've been without a computer for several weeks. I won't go into the gory details but the fact that my studio (a third floor attic!) is about a million degrees right now may have had something to do with it.
Anyway, the computer is back from the shop and working fine AND I'm now set up on the second floor which is...well, it's still pretty fucking hot, but nowhere near as bad as that attic inferno, portal to Hell itself!
- William A. Davison
PS: aside from the computer issue, June has been a very busy month! I'll try to get some updates posted soon on the various stuff that's happened.
---
---
Update, May 24, 2005 - irr.app.(ext.) and Songs of the New Erotics concert
"An evening of dust pinching, crustacean swapping, and Ancient Egyptian semaphore with these audio surrealists and Nurse With Wound collaborators. Presented to you courtesy of The Recordists (www.recordism.com) and the Spongiferous Tree Labelling Association (a fictitious organization!)."
~~~~~
Final details have been arranged and we are pleased to announce that the irr.app.(ext.) and Songs of the New Erotics concert will be going ahead as scheduled. The event will take place at New Works Studio, 319 Spadina Ave. (just north of Dundas), Toronto, on Wednesday, June 1, 2005. Doors open at 8pm, first performance starts around 9pm. Seating is very limited and the maximum capacity of the venue is around 40 people so arrive early! Admission is $7 at the door.
In case you missed the irr.app.(ext.) article in the Dec. '04 issue of The Wire, information on the surrealist-influenced audio and visual work of Californian artist and Nurse With Wound collaborator Matt Waldron can be found at http://www.holocenesound.org/irr/index.html
Songs of the New Erotics is the long-running Recordist/Surrealist sound and performance art project of...little ol' me! Visit the S.O.T.N.E. website at http://www.recordism.com/SOTNE/SotNE.html
For fans of the strange and surreal in all its forms, particularly its sonic manifestations, this is an event not to be missed! We also promise a special surprise or two!
Hope to see you there!
- William A. Davison
---
---
Update, May 19, 2005 - This Sunday!
Two events of note taking place this Sunday, May 22/05.
1) The premiere of a new sound piece by Songs of the New Erotics entitled "A Small Beam Of Light Against A Mirror" will take place on A Missing Sense/Electric Storm, CKLN 88.1 FM, Toronto (also available via internet at http://ckln.fm) at 11:30 pm. "A Small Beam Of Light Against A Mirror" is a dense collage of exclusively "radio-related" sounds including vintage radio dramas, found tapes from radio station archives, and heavily processed recordings of live to air performances by Six Heads and Songs of the New Erotics. The work was commissioned especially for A Missing Sense by the show's host James Bailey and will be aired as part of New Adventures In Sound Art's month-long "Deep Wireless: A Celebration of Radio Art".
2) While that's taking place, I will be at The Horseshoe Tavern (370 Queen Street West, Toronto), along with my Gastric Female Reflex cohorts Andrew and Jacob, opening for Sub Pop noise rock superstars Wolf Eyes! More info here.
- William A. Davison
---
---
Update, May 17, 2005 - Sonambula
A great, and much needed, new website on Latin American surrealism, courtesy of our friend Enrique Lechuga, can be found at http://www.sonambula.com
- William A. Davison
---
---
Update, May 3, 2005 - GFR "tour" dates
Gastric Female Reflex (Andrew Zukerman, Jacob Horwood, Catharine Crockett, William Davison) will be performing at the Flywheel Arts Collective in Easthampton, Massachusetts on Thursday, May 5 and at Toc Toc in Montreal on Saturday, May 7. More details on the GFR website.
- William A. Davison
---
---
Update, May 2, 2005 - irr.app.(ext.)/S.O.T.N.E.
We can at this time, and with a fair degree of certitude, announce that an irr.app.(ext.) and Songs of the New Erotics performance will take place in Toronto on Wednesday, June 1, 2005 at New Works Studio (319 Spadina Ave., upstairs). Exactly what might transpire during this event and in its aftermath is a matter of grave speculation, however we have heard rumours that Lobster Spirits will be summoned and will wear party hats and sing in high, squeeky voices. Further details will be announced shortly.
- William A. Davison
---
---
Update, April 20, 2005 - Fragrant world premiere
~~~~~
FRAGRANT
Beauty, despair and forbidden knowledge
SU-EN Butoh Company present:
Seven female dancers join a flower artist in choreographer SU-EN's newest work
April 27-29 Moderna Dansteatern i Stockholm (www.modernadansteatern.a.se)
April 28 also Dance Talk by Gilles Kennedy
May 3 Uppsala Stadsteater (www.uppsalastadsteater.nu)
May 5-6 Dansstationen i Malmö (www.dansstationen.nu)
May 8 Pusterviksteatern i Göteborg (www.pustervik.goteborg.se)
Secrets. A flower opens at night.
In the garden, secluded,
She waits for the next blossoming.
Long-haired, bewinged,
Evoking dark thoughts, defiling dreams,
She howls in pain until the day's ending.
Choreography and concept: SU-EN
Dance: SU-EN Butoh Company, 7 dancers
Floral intervention: Junichi Kakizaki (JP)
Music: Lee Berwick (UK)
Lighting and scenography: Rosula Blanc (CH)
Costumes: SU-EN and the company
Production: Mon no Kai/SU-EN Butoh Company
Photography: Henriette Lykke (DK)
Layout: Patrik Sporrong
Thanks to Gilles Kennedy and Richard Hart
Duration: Appr. 70 min. without interval
Supported by: Swedish Ministry of Culture, Uppsala City Cultural Council, Swedish Institute, Swedish Arts Council, Canada Council for the Arts
~~~~~
- William A. Davison
---
---
Update, April 17, 2005 - Spasmo Pop Orgy
~~~~~
ISTVAN KANTOR and the DRAKE
present
SPASMO POP
april 29, 2005 9pm Drake Underground, Toronto
featuring
ISTVAN KANTOR & THE RED ARMBAND
with
Chris Worden - noizzzak
MC Flasher - voicetronics
DJ SAS (Short Attention Span) - laptoptix
MSAG (MachineSexActionGroup) - eclampsia
Best known for his taste for blood and crime, Adrienne Clarkson's favorite ISTVAN KANTOR brings his newly formed RED ARMBAND, guest performers and machine-sex conspirators to the Drake for a night of convulsive subvertainment, music, performance, video. Also known as Neoist open-pop-star Monty Cantsin, Kantor will recite his Spasmo Pop Manifesto accompanied by seizure like hyper-beat sequences. Kantor defines Spasmo Pop as the musical equivalant of his rhapsodical criminal activity and robophonic aesthetics. Young noise addicts Chris Worden and MC Flasher are also among the list of performers together with members of the delirious MachineSexActionGroup and techno-blabla maniac DJ SAS. Convulse now! Leave your antispasmodic pills home!
for more information visit:
www.istvankantor.com
www.machinesexactiongroup.com
~~~~~
- William A. Davison
---
---
Update, April 12, 2005 - Bergmark in MaterialNoiseParadancePerformance
~~~~~
THURSDAY the 14th of April, 20.00
Teatr Kana, Szczecin, Poland
http://www.kana.art.pl/
International MaterialNoiseParadancePerformance Theatre
Johannes Bergmark, Szczecin/Stockholm (Swedish), material music
Stuart Lynch, Copenhagen (Australian) Paradance
redFrik (alias Fredrik Olofsson), Berlin (Swedish), noise and visuals
Pär Thörn, Malmö (Swedish), performance
This is the first collaboration in this setting of these international multiartists, all highly individual in their own field.
JOHANNES BERGMARK plays improvised and live electronic music for invented instruments, selected objects, the musical saw, toys, voice and electronics. He makes his own instruments and contact microphones. Bergmark is also a writer, electroacoustic music and text-sound composer, sound poet, piano technician and surrealist. He has toured internationally and collaborated with other artists worldwide. He also makes sound sculptures, interactive sound installations and teaches and lectures. In some settings he also acts, dances, uses objects or does jester tricks. He lives in Szczecin, Poland and Stockholm, Sweden, and is active in the organization for radical and experimental art Fylkingen (Stockholm), at the electronic music studio EMS and in the Surrealist Group in Stockholm. 2003 he performed in Szczecin for the first time, in a duo with Martin Klapper at Musica Genera festival. Since the last OKNO Festival of Young Theatre at Teatr Kana, where he performed with his musical performance pieces and also met his becoming wife Anna, he began collaborating with Teatr Kana to curate the visit of Fylkingen artists at this year's OKNO which happened in February. There he also performed with his acousto-electric composers' collective Smullotron. http://www.bergmark.org
STUART LYNCH is a dancer and director based in Copenhagen. He is artistic leader of the Paradance Theatre and originator of Paradance Method. In 1991 and 1992 he lived in Japan working with Min Tanaka and the Mai-Juku dance company. Lynch is one of the leading European practitioners of Tanaka's methodology, 'Bodyweather'. Currently he is preparing a tour of norway with the duo performance Bodyweather Interface made in collaboration with dutch dancer and choreographer, Frank Van de Ven. Paradoxically Lynch is tough, vulnerable, raw and sophisticated. Ground Zero Magazine, Denmark. http://www.paradance.net/
redFrik
I want to play noise for the masses! http://www.fredrikolofsson.com/
PÄR THÖRN is a swedish writer and performance artist. He has been performing in several places in Sweden, Denmark and United Kingdom. His works are mostly inspired by fluxus artists and a reaction against the alienated everyday life he keeps living. He will execute a performance called "A second attempt to establish a perfect world".
-------------------------
Johannes Bergmark's instrument inventions, musical performance, improvisation, sound poetry, critical writing, surrealism. Text, image, sound, film, cv, discography, compositions, manifesto, poetry:
http://www.bergmark.org
http://www.surrealistgruppen.org
http://www.fylkingen.se
http://iapao.net
~~~~~
Posted to the Recordism Discussion Group by Johannes Bergmark. Posted to The Organ Grinder's Gazette by me!
- William A. Davison
---
---
Update, April 11, 2005 - W.A.Davison at Images Festival
As promised, here are the details on the Super-8 screening I'm showing in tomorrow night as part of Images Festival:
~~~~~
Images celebrates the neglected format of Super8 this Tuesday thru Thursday!
Adopting a "no-video" exhibition policy, Images showcases two nights of international Super 8 films at the Cameron House, followed by a Bring Your Own 8 night at Cinecycle.
Tues & Weds are PWYC and Thursday's open is FREE.
/////////////////////////////////////////////////////////////////////
Tuesday 12 April, 11:00 pm, Cameron House, 408 Queen Street W., Toronto, PWYC
Fuck You
Director Linda Feesey (1990, 3 min, Super 8, Canada)
Daytona
Director Linda Feesey (1992, 4 min, Super 8, Canada)
I Want to be Macho
Director Milada Kovacova (1995, 3 min, Super 8, Canada)
More Intimacy
Director Tony Wu (1999, 6 min, Super 8, Taiwan)
Awanono
Director Miho Uehara (2003, 3 min, Super 8, Japan)
Cinefuge
Director John Porter (1974, 5 min, Super 8, Canada)
Rebel Fux: The Movie
Director Kate Huh (2000, 3 min, Super 8, USA)
Pixel
Director William A. Davison (1991, 3 min, Super 8, Canada)
Double Trouble
Directors Donald Peters, Tytus Pluciennik & Marek Pluciennik (2004, 4 min, Super 8 silent, Canada)
#3 Okkyung
Director Andrew Lampert (2004, 3 min, Super 8 silent, USA)
Becky's Eye
Director Willie Varela (1974, 4 min, Super 8 silent, USA)
Greenlight
Director Willie Varela (1976, 4 min, Super 8 silent, USA)
Leaves of Glass
Director Willie Varela (1979, 4 min, Super 8 silent, USA)
New Year's Eve 94/95 Berlin-Kreuzberg
Director Dagie Brundert (1995, 3 min, Super 8 silent, Germany
/////////////////////////////////////////////////////////////
Wednesday 13 April, 11:00 pm, Cameron House, 408 Queen St. W., Toronto, PWYC
Land of Enchantment
Director Jeanne Liotta (1994, 3 min, Super 8 silent, USA)
Brother & Sister in the Snow
Director Dagie Brundert (1995, 3 min, Super 8 silent, Germany)
Home Movies Oct 2002-August 2004 (excerpt)
Director Frank Biesendorfer (2004, 8 min, Super 8 silent, USA)
Vancouver Special
Director Lisa Marr (2005, 5 min, Super 8, Canada)
[Happy Birthday Lisa!!!]
Palm
Director Sandra Gibson (2003, 3 min, Super 8 silent, USA)
NYC Flower Film
Director Sandra Gibson (2003, 3 min, Super 8 silent, USA)
Ur-Haus V (Woodstock)
Director François Boué (2003, 4 min, Super 8 silent, Switzerland, USA)
Family Reunion
Director John Porter (2003, 8 min, Super 8 silent, Canada)
Juntos en la Vida, Unidos en la Muerte
Director Willie Varela (1985, 10 min, Super 8 silent, USA)
The Space in Between
Director Glen Fogel (2001, 15 min, Super 8, USA)
///////////////////////////////////////////////
Thursday 14 Apr 11:00 pm @ Cinecycle
129 Spadina Avenue ( south of Richmond, down the lane), Toronto
Super 8 Late: BYO8 / *FREE*
Co-presented with the Home Made Movies home movie project, Images hosts a-bring-your-own-8mm night.
This is your chance to show up our programmers with the timeless Super 8 we forgot. Everyone is invited to bring that roll of Regular 8mm (split or unsplit) or Super 8 that you have lying around the house: from your artsy 8 project, your family's home movies or the faded stag film you found in dad's drawer. Only on film. Nocturnal surprises for all!
Featuring the premiere of For Plastic Man (For Morton Feldman), an 8mm projector performance by Andrew Lampert that can only be screened for one audience member at a time!
//////////////////////////
IMAGES FESTIVAL
401 Richmond Street West, Suite 448
Toronto, Ontario, M5V 3A8, Canada
http://www.imagesfestival.com/2005
~~~~~
Note that Six Heads member Linda Feesey is in this event too!
Hope to see you Tuesday night!
- William A. Davison
---
---
Update, Mar. 30, 2005 - Papers of Surrealism
Just found out from Stuart Inman of the Londonsurrealists that the AHRB Centre has released the third issue of its Papers of Surrealism online journal.
Quoting from AHRB's announcement:
>The AHRB Research Centre for Studies of Surrealism is pleased to
> announce that issue 3 of its journal, Papers of Surrealism, is now
> online.
>
> Papers of Surrealism is a peer-reviewed journal which welcomes a
> diversity of opinions and approaches and seeks to represent the
> breadth of academic disciplines engaged in the study of dada,
> surrealism and their legacies. Issue 3 includes a special guest-edited
> collection of essays about Czech surrealism, as well as new articles,
> exhibition and book reviews and an interview with British artist Laura
> Ford.
>
> Issues 1-3 special themes include:
>
> * Body/Identity
> * Defining Surrealism
> * Dreams
> * Legacies
> * Objects & Junk
> * Photography & Film
> * Play & Humour
> * Science and the Occult
> * Surrealism Abroad
>
> To view issues 1-3 of Papers of Surrealism, please visit:
> www.surrealismcentre.ac.uk/publications/papers/index.html
>
> Professor Dawn Ades - Director
> The AHRB Research Centre for Studies of Surrealism and its Legacies
> Tel: 01206 87 2600 Fax: 01206 87 3003 www.surrealismcentre.ac.uk
I haven't been keeping up on AHRB's efforts lately so I'm grateful to Stuart for passing this info along via the Londonsurrealists group discussion list. Papers of Surrealism looks quite interesting and I'll definitely be checking out some of the articles in the next little while.
- William A. Davison
---
---
Update, Mar. 29, 2005 - Surrealism comes to Kingston (says Stuart Ross...and he would know!)
Stuart Ross just sent me this info on the reading we're doing together this coming weekend. Thought I'd pass it along.
~~~~~
TARA AZZOPARDI, W.A. DAVISON & STUART ROSS
READ IN KINGSTON, APRIL 3 - A SURREAL ESTATE EVENT!
Hi there!
I'm reading in Kingston, along with two other contributors to my anthology Surreal Estate: 13 Canadian Poets Under the Influence (The Mercury Press): the sublime Tara Azzopardi and the inscrutable W.A.Davison.
Here's the guff:
The Sleepless Goat
91 Princess Street, Kingston
Sunday, April 3 at 7 pm
no admission * no cover * books available for sale
If you will be in Kingston that day, please come to the reading! And if you know anyone in Kingston who'd be interested, please pass this along. I guarantee an excellent set of readings!
Thanks,
Stuart
~~~~~
- William A. Davison (and Stuart Ross)
---
---
Update, Mar. 28, 2005 - Images Festival catalogue launch
~~~~~
The Images Festival opens in 2 weeks - April 7-16!
Come celebrate and get a sneak preview of the 2005 program at the Catalogue Launch.
Tuesday, March 29 at 8 p.m.
@ Supermarket, 268 Augusta Ave. Free
Hot off the presses, hot programs, hot event!
Join us for the launch of the 2005 Images Festival Catalogue on Tuesday, March 29 at 8:00 pm at Supermarket in Kensington Market in Toronto. Be the first to see the brand new catalogue and check out the details of this year's exciting program.
Executive Director Petra Chevrier, Artist Director Jeremy Rigsby and Programmers Scott Berry and Chris Kennedy will be on hand to introduce the 2005 programming. Mingle with fans and 2005 festival artists including Gunilla Josephson, Michael Toke, Barbara Sternberg, Renata Mohammed, Michael Stecky, John Kneller, Barbara Mainguy, Khanhthuan Tran, Barry Greenwald, Linda Feesey, John Porter and W.A. Davison.
DJ Isabelle Noël spins everything from 60's French soundtracks to tomorrow's new wave.
Food, drink, music, friends, artists, and brand new catalogues!
Support the festival by buying an Images Membership which gets you great discounts on tickets and passes. Available at the Launch and at www.imagesfestival.com.
The Images Festival, Canada's largest annual event devoted to independent and experimental film, video, and media installation runs from April 7 through April 16, 2005 in Toronto. From hand-tinted celluloid to digital video, live performance to interactive software, the Images Festival celebrates its 18th year with an extraordinary line-up of independent and experimental images from Canada and around the globe. More than 100 films and videos, 2 media art installations, two web-based exhibitions, and three live audiovisual performances make Images the most highly anticipated media arts festival in Canada.
The Opening Night Gala, on Thursday, April 7 at 8pm at the Bloor Cinema (506 Bloor St. W.), features Chain, U.S. indie veteran Jem Cohen's first dramatic feature, starring Miho Nikaido with music by Godspeed You! Black Emperor in a film The Village Voice praised for its "dreamlike power and fierce political intelligence". The Opening Night Party begins at 10pm at The Mod Club (722 College St.).
On Friday, April 8, 7 pm, Images' Canadian Spotlight focuses on Toronto artist Robert Lee, who introduces his retrospective of eloquent and enigmatic video works, and at 9:15pm musician Aki Onda performs Cassette Memories, an aural experience of global wanderlust improvised from audiocassette field recordings. The evening's screenings are followed by the Images Off-Screen Launch Party at 10:30pm at the Gladstone Hotel (1214 Queen St. W.). This year's extravaganza of off-screen, gallery-based video installations, electronic sculpture, web-projects and performances includes works by Lorna Simpson, Nell Tenhaaf, Donigan Cumming, Hassan Khan, Zoe Beloff, Renzo Martens and many many more.
Other festival highlights: musicologist and DJ Irwin Chusid visits from New York on April 12, 7pm at the Royal Cinema for a talk and screening based on his book about outsider music, Songs in the Key of Z; Super 8 Late celebrates the neglected format of Super 8 film over two nights, April 12 & 13, 11pm at the Cameron House (408 Queen St. W.); the powerful debut feature The Taste of Koumiz by Belgian Xavier Christiaens premieres April 10, 9:15 pm. At the heart of the festival, the International Shorts Programs present 65 new films and videos from Canadian and international artists in twelve thematic programs ranging from the restrained to the raucous, from gardens to war zones, from shiny to furry. On April 9 & 10 at the Drake Hotel (1150 Queen St. W.) a series of lectures and panels brings together cultural theorists, architects and artists in the Visible City symposium. George Yùdice, WJT Mitchell, Kaja Silverman and others consider the contemporary city as an intersection of technology, communication and aesthetics.
All events at Innis Town Hall Cinema (2 Sussex Ave.) unless otherwise noted.
Program Online: www.imagesfestival.com
Ticket Info:
Advance Tickets:
In person: at TIFF Box Office (Manulife Centre, 55 Bloor St W., main floor, north entrance)
By phone: at 416-967-1528
Online: by visiting our website at www.imagesfestival.com
Images Box Office:Tickets also available starting April 8 and throughout the festival at the Images Box Office: Innis Town Hall, 2 Sussex Avenue
Opens 30 minutes prior to the first screening of the day. Closes at the start of the last screening of the day
Admittance to all screenings is restricted to those 18 years of age or older.
Ticket Prices:
Regular Screenings, Performances: $8 general admission / $5 students/seniors/members*
Visible City Symposium Day Pass: $8 general admission / $5 students/seniors/members*
Opening and Closing Night Galas: $12 general admission / $10 students/seniors/members*
FESTIVAL PASS (entry to all events): $75 general admission / $50 students/seniors/members*
*discounted rates available in person only, with valid ID.
IMAGES FESTIVAL
401 Richmond St. W. #448
Toronto ON Canada M5V 3A8
T 416.971.8405 F 416.971.7412
http://www.imagesfestival.com
~~~~~
You'll notice my name listed there, as well as Six Heads member Linda Feesey. A few other friends involved as well. The catalogue launch should be fun and the festival itself looks pretty interesting! I'll announce the screening I'm involved in a bit closer to the actual date but for future reference I'm in the "Super-8 Late" section on April 12.
- William A. Davison
---
---
Update, Mar. 27, 2005 - Psycho-Physical Noise Mini-Festival
I debuted a new Songs of the New Erotics performance entitled "Dave Charles Sample Spots 7 1/2 I.P.S." at this event last night. It was a blast (I mean the event...no explosions were involved in my performance)!
Here are the details on the event:
~~~~~
Psycho-physical Noise Mini-Festival
New Works Studio, 319 Spadina (upstairs)
March 26th at 7pm, $ten
Rudolf Eb.er's RUNZELSTIRN and GURGELSTOCK (japan) think digestive
sounds enveloping flesh-coloured staple-guns in karate chop mode.
infamous for the ass-trumpet and other such humiliations. will move you
to shit and give birth at the same time!
DAVE PHILLIPS (switzerland) will disturb your central nervous system
without the aid of proper aural preparations. i listened to
schimpfluch-gruppe's "shiptfluch" and thought that a legion of mental
ward escapee's were breaking into my house through the breadbox.
JUSTICE YELDHAM and the Dynamic Ribbon Device (australia) if there is a
noise-supervillian Lucas Abela is effectively it- equiped with a gadget
belt paired with an amplified pane of glass, Luke will demonstrate how
to play the contraption with his lubricated face. currently on a
never-ending world tour to become the ugliest man imaginable (and stain
your pillows with his blood-soaked cheek)
SARA GLAXIA (mexico) "I have new enquirements for some of the
performances, need white card board of the zice of the etage wall
behind, 3 mop and 3 metal bucket, three gallon of each pain colors red
yellow and blue."
GASTRIC FEMALE REFLEX (the ghetto) a month's worth of recycling and the
garbage man lets his dog ride in the passanger's seat. hes a good man.
come for cheap booze and stay for bleeding ear.
~~~~~
My apologies for not announcing this event. After our presentation at York University, I went straight into developing this piece which took several days. Preparations, in fact, lasted right up until one hour before the show when I created a mask out of the leg from a pair of polyester pants found in the garbage at work!
You'll notice that I'm not listed in the promo material. That's because I was a late addition to the bill after both Sara Glaxia and Runzelstirn and Gurgelstock cancelled (I was really looking forward to seeing R and G too!). The evening was pretty darned enjoyable though even without the headliners!
I'll try to give more details on this event at a later date.
- William A. Davison
---
---
Update, Mar. 20, 2005 - new drawings + York University presentation
~~~~~
Announcement #1:
Added another page of collective drawings to the new Recordists website.
~~~~~
Announcement #2:
S.Higgins and I will be giving a talk and presenting our Recordist work in various media at York University, Toronto, tomorrow evening (Mar. 21) as part of Prof. Ray Ellenwood's class "Modernist Movements: Dada/Surrealism in Europe and North America." A report to this list will follow shortly thereafter (unless we forget...but you'll remind us won't you?).
- William A. Davison
---
---
Update, Mar. 19, 2005 - The Recordists website
Ohmygod! It's up! It's finally actually honestly and truly up and running! The new Recordists' group website!!!
- William A. Davison
---
---
Update, Mar. 3, 2005 - improvising
Two gigs coming up in the next few days:
~~~~~~
Leftover Daylight
Friday, March 4, 2005
i- Aldcroft / Posgate / Perera / Oelrichs
w/ ken aldcroft- guitar, tim posgate- guitar, nilan perera- guitar, jake oelrichs- drums
ii- The Bokker Buckle Band
w/ don scott- guitar, michael herring- bass, joe sorbara- drums
iii- Fraser / Bailey / Davison
w/ nick fraser- drums, jim bailey- electronics, will davison- electronics
9pm
arraymusic studio
60 atlantic ave, suite 218
$10/$6
~~~~~~
An evening of mo' bitchin'
presented by Dougal
formerly of TOES
now TEMS (Toronto Experimental Music Society)
at
Oasis Back Room
294 College Street
Toronto ON
Sunday, March 6, 2005
Non-idiomatic free improvisation, created in the moment, at the moment of performance by the performers.
7:00 - 7:45
Arnd Jurgensen - lap/steel slide guitar
Guy LeBlanc - trombone
Harry Simpson - drums
8:00 - 8:45
Colin Anthony - piano
Grahame Beakhust - double-bass
Rod Campbell - trumpet
Alice Norton - percussion
9:00 - 9:45
Improvising on Michelangelo's homemade instruments, including humdrum, krautonium, Bob, hosaphone, bass lute, picture frame zither, Miss Hackbrett, pvc clarinets, etc. will be
Jim Bailey
Rod Campbell
William Davison
Michelangelo Iaffaldano,
Michael Keith
Andy Yue
10:00 - 10:45
Dominique Banoun - vocalisations and other noise making
Alan Bloor - bass
Dougal - violin, bamboo flute, harmonica, voice
Elliott Chapin - flute, slide trumpet, cornetto, voice
Bryan Dennis - percussion
and maybe others...
For more information or to be a part of a future bitchin' session, email Dougal, dougal@dougal.ca.
~~~~~~
Hope to see you there!
- William A. Davison
---
---
Update, Feb. 25, 2005 - GFR website
Finally, the Gastric Female Reflex website you've all been waiting for! Or at least a close facsimile.
http://www.geocities.com/gastric_influence/
- William A. Davison
---
---
Update, Feb. 24, 2005 - U of T presentation
Just a quick note to say that I will be doing an artist talk and workshop at the University of Toronto tomorrow (Fri., Feb. 25) for my friend Louise Liliefeldt's performance art class. This is not open to the general public unfortunately but I will be making some kind of document of the proceedings so, perhaps, the documentation will be made available in some way. Thought you'd like to know.
- William A. Davison
---
---
Update, Feb. 24, 2005 - Strindberg and Helium
Originally posted to the Lexiconjury list.
- William A. Davison
---
---
Update, Jan. 23, 2005 - web changes
Just completed a major overhaul of the Songs of the New Erotics website which now incorporates all of the S.O.T.N.E. performance documentation previously hosted on the Virtual Bureau Of Recordism plus a lot of new material related to the audio side of the project (including two new MP3s) and miscellaneous photos and stuff. Wow!
Not long ago I also removed my online portfolio website and replaced it with an entirely new personal site called "The Recordist Art Of W.A.Davison". This new website still contains my portfolio and CV but also incorporates material from the Virtual Bureau Of Recordism (examples of visual art, writing, comics, etc.) plus some new material, and has been completely redesigned for a new look more in keeping with the other Recordist websites.
Many more changes to come as everything from the I.B.R.I. years gets redesigned and redistributed. In addition, the new "Recordists" group website is very near completion and should go online within the next month or so.
Whahooie!!!
- William A. Davison
---
---
Update, Jan. 20, 2005 - Conroy Maddox R.I.P.
Very sad to say Conroy Maddox has died. Here's an obit from The Guardian, U.K. (courtesy of Jay Woolrich of Upland Trout and Londonsurrealists):
--------------
Conroy Maddox
One of the last British surrealist painters, leader of the bohemians of Balsall Heath
Tim Hilton
Wednesday January 19, 2005
The Guardian
Conroy Maddox, who has died aged 92, was the last survivor of the British surrealist movement of the 1930s, a painter who stayed loyal to his principles of anti-bourgeois subversion for more than half a century.
Like most surrealists, Maddox was a controversialist; he liked to denounce other artists whom he held to be unfaithful to the spirit of the movement. His appetite for dispute seldom led to rancour. Maddox was a friendly man, whose revolutionary musings seemed detached from the real world.
He did not look like an artist. He was diminutive, wore dark suits and formal neckties, had neat jet-black hair (dyed in his later years), a military-style moustache and large, severe spectacles. One might have taken him to be a bureaucrat. His correct, dapper and youthful manner confused many people who met him for the first time. When in his late eighties, he had the appearance of a man in his fifties. Sometimes it was rumoured that he had been born in Paris in 1937.
The misconception no doubt arose, or had been invented, because that was the year in which he first visited Paris. It could be said it was that then he became a surrealist, except that he had joined the movement in preceding years, from afar - from the unlikely surroundings of Birmingham.
Maddox was born in Ledbury, Herefordshire. In the 1930s, relatively prosperous Birmingham attracted migrants from the Welsh marches, Maddox among them. He was in search of culture rather than employment, and spent much time in the city's art galleries, which he did not like, and public libraries, where he sought out the few books on modern art. He did not attend art school and had no formal training. His earliest paintings were still lives and landscapes; he became a self-taught modernist when he chanced upon RH Wilenski's The Modern Movement In Art (1927) and attempted to copy its illustrations.
In 1935, Maddox met two leaders of the avant garde in Birmingham, brothers John and Robert Melville. The elder, John, was a painter already experimenting with surrealism. Robert (later art critic of the New Statesman) was an aspirant writer, who knew more about Picasso than most Englishmen then. They introduced Maddox to Anton Zwemmer's bookshop in London, where he acquired books on Max Ernst and recent issues of the French magazines Minotaure and Cahiers d'Art. Thus was born the Birmingham surrealist group, who included Emmy Bridgewater, Oscar Mellor and Desmond Morris.
Maddox entered the politics of surrealism when, in 1936, he was invited to participate in the International Surrealist Exhibition at the New Burlington Galleries. Maddox and Melville failed to send paintings, but denounced such established figures as Herbert Read, Henry Moore and Graham Sutherland, who were within the surrealist orbit but regarded by Maddox as middle-class purveyors of the acceptable picturesque.
At the exhibition, Maddox met André Breton, Max Ernst and Salvador Dali, who provided further introductions to artists in Paris; Maddox was often in Left Bank cafes before 1939. His spoken French was never good, but he communicated with artists in other ways. An aesthetic debate was settled by a duel with furled umbrellas.
During the second world war, Maddox contributed to the magazine Arson, and made sporadic efforts to organise a British surrealist movement. He was best employed, in the late 1940s and early 1950s, directing surrealist operations in Birmingham, where he had considerable notoriety, his home territory being Varna and Alexandra Roads, where prosperous Edgbaston became seedy, dilapidated Balsall Heath. Festivities were common in Maddox's surrealist villa. I attended carousals there with other undisciplined children, women in Gypsy dress, poets, communist intellectuals from the University of Birmingham, and early postwar Caribbean immigrants.
Desmond Morris recalls some of Maddox's surrealist sculptures, in particular a typewriter with its keys replaced by upturned drawing pins. The Balsall Heath house also contained dozens of unsold paintings and many photographs of Maddox in the company of a nun.
Some of their activities involved a crucifixion, the naked but bespectacled Maddox its victim, while the nun drank from a two-pint bottle of the local brew, Mitchell's and Butler's.
Maddox wished to enact his scenarios with nuns in Birmingham shop windows, projects discouraged by the city council. At the beginning of the 1960s, slum clearance and town planning ended the Balsall Heath bohemia. Maddox moved to north London and was able to make a modest living from his art. Although his work was evidently derived from Ernst, Magritte and Dali, he was inventive and prolific. It is estimated that he produced more than 2,000 paintings, as well as gouaches and collages.
His surrealist convictions kept Maddox apart from the London art world, especially since he was a man from another age. He disapproved of much recent painting and sculpture. Young artists annoyed him; he thought that they had not worked hard enough for success.
Maddox was a diligent artist. He often contributed to surveys of European surrealism, and held some 20 solo exhibitions after his first one-man show at the Grabowski Gallery, London, in 1963. A retrospective was held at the Stoke-on-Trent City Art Gallery in 1995, lovingly curated by Silvano Levy. His work is represented in the Tate Gallery, and, only recently, in Birmingham City Art Gallery.
He is survived by his daughter Lee. His wife, Nan, whom he married in 1948, and a son predeceased him.
- Conroy Maddox, painter, born December 27 1912; died January 14 2005
--------------
When Sherri and I were visiting various surrealist friends in the U.K., Summer 2003, we had been given Conroy's phone number and encouraged to ring him up. One of our great regrets from that trip was the fact that we did not do this, owing mostly to a nasty cold that Sherri came down with while in London, which we did not want to chance passing along to the then 90 year-old Maddox. Considering his advanced years, we knew we might not get back to London before he passed on...and, sure enough, he's gone.
I would like to point you to online information about Conroy Maddox but, unfortunately, there doesn't seem to be much available on the web right now. There was a small website devoted to Conroy Maddox at one point (maintained by Silvano Levy?) but it disappeared a few years ago. We'll keep our eyes and ears peeled and let you know if anything turns up. If you happen to know of online information about Conroy Maddox, send me an e-mail at davison(at)recordism(dot)com
- William A. Davison
---
---
Update, Jan. 3, 2005 - Andreyev concert
~~~~~
SAMUEL ANDREYEV
PERFORMANCE AND CD RELEASE
AT THE CAMERON HOUSE
ON JANUARY FOURTH (7--9PM)
--------------------------------------------------------
Dear Friends, Associates and Andreyevites --
Two Thousand Five comes to life with a rare performance by singer/composer Samuel Andreyev. Sam lives in Paris now, but he's back in Toronto just long enough to toast the New Year with a solo show and party at The Cameron House. This event will officially mark the release of his new compilation CD Regions Reach. By kind invitation, I'll be doing a reading between Sam's sets on the Cameron's old honky tonk piano.
It's been over two years since Sam last performed live in Toronto (also at The Cameron) with the now defunct Trosper Ensemble. On January Fourth, he'll be playing selections from his new TVI compilation Regions Reach -- and he might treat us to a couple new songs as well.
Here are the details:
Samuel Andreyev
7-9PM (though party may run later)
4 January 2005
The Cameron House (Front Room)
408 Queen Street West
Toronto, Canada
--no cover--
Regions Reach and other Torpor Vigil Industries releases (including Samuel Andreyev's acclaimed Songs of Elsewhere) will be available at the show.
Thanks to all who came out a couple weeks ago to the Torpor Vigil Dream Bazaar and danced The Snail, conspired with plush apes, told us your dreams and played food roulette. It was, as some observed, the greatest event of all time.
Have a great holiday (if there's still some left of it) and a pleasantly terrific new year.
See you on the Fourth!
Steve
Steve Venright
Torpor Vigil Industries
Toronto, Canada
http://www.torporvigil.com
~~~~~
Forwarded to us courtesy of Steve Venright.
- W.A.Davison
---
---
Update, Jan. 3, 2005 - web changes
As of Dec. 31, 2004 all Recordist-related websites hosted at http://members.rogers.com have been removed from that server. This includes hURLy - bURLy, the Virtual Bureau Of Recordism, Disembraining Songs, Emunctory of Dreams Press, Songs of the New Erotics, Six Heads, William Davison - Noisician, William Davison - Polymedia Artist, and The Organ Grinder's Gazette (this page). These sites are now being hosted at http://www.recordism.com and can be accessed from there. One exception is the Virtual Bureau Of Recordism which is off-line permanent like! VBOR's replacement is nearing completion and will be uploaded to recordism.com shortly (ooh, very exciting!). Numerous other changes are underway and will be seen in the next month or so.
Happy New Year everyone!
- W.A.Davison
---
---
* a note on the title: "The Organ Grinder's Gazette" was the original name of the official printed bulletin of the International Bureau of Recordist Investigation which was published by Emunctory Of Dreams Press and ran for three issues from Jan. 1999 to Feb. 2000. Each issue had a different title - "The Organ Grinder's Gazette", "The G. Grosz Garden Nitrate", and "Tarred Eggs Entering Azoth" - and each variation was an anagram of the original. Since we've decided to resurrect our little bulletin here in the form of this webpage, we also will carry on with our changing name game (using anagrams and other strategies), albeit on an occasional basis, beginning with "The Grazed Noggins Retreat".
Online versions of the original printed bulletins are available on the EOD Press Table of Contents.
The Organ Grinder's Gazette (2004 Message Archive)
I.B.R.I. Global Mailing List Archive